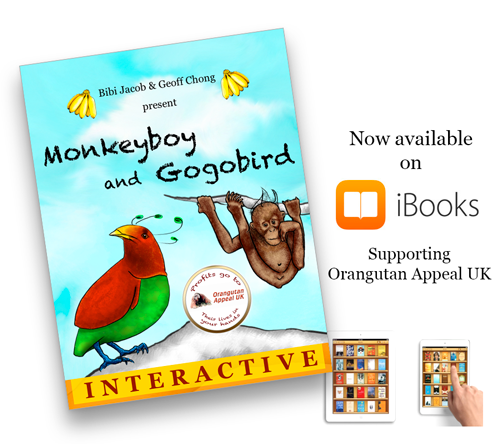 My first interactive e-book for children is available at iBookstore! Click on the above image to purchase a copy!
Meet Monkeyboy and Gogobird: a charming orangutan with too-many toes and a flamboyant bird who's a bit of a show-off. These two endearing outsiders unexpectedly meet and dance their way into each other's hearts.
I wrote and narrated this interactive ebook. It contains funny sound effects and uplifting music with a restful lullaby chime at the end. It's beautifully illustrated and animated by Geoff Chong with rich and vivid colors.
A touching story that shows how we can find peace and contentment in our world, whoever we may be. Monkeyboy and Gogobird is the perfect bedtime story for your little ones. Or a great picture book to keep them entertained when they travel.
About Geoff, illustrator
When I first met Geoff Chong, I asked him where he came from. He said he was born in the luscious rainforest of Borneo, where he used to hang off a tree branch, bottomless (as opposed to topless) near the famous Sepilok Orangutan Rehabilitation Centre. This was the world's first orangutan sanctuary founded in 1964 in Sabah, Malaysia.
He was sent to English mission schools in Singapore at a very tender age to get a good British education. Then he moved to London to study at the Sir John Cass Art School. For the last 20 years he has been living in Paris.
But back to the first day I met Geoff. I asked him 'Why were you bottomless?' In his unusual British accent, where you can pick up French and Asian intonations, he replied, 'Well in such humidity, it felt much better to stay dry and free. Plus mum thought it was an ecological idea – that way she didn't have to wash too many cotton nappies in one day.'
Geoff hand drew all the Monkeyboy and Gogobird scenes using stylus with his iPad and had great fun animating with Tumult Hype software.
About Bibi, writer and narrator
In my third year at Cambridge University (where I studied English) I got to be a Peacock in a show called 'Hummingbirds'. The play then had a run at the Edinburgh Festival, followed by the Young Vic, London. There was a side of me that loved showing off on stage. My costumes were made of fabulous peacock feathers and I danced and sang alongside the other actors, feeling that I had found my place in life.
I went on to tour England and Europe with various shows, then studied physical theatre at the Ecole Jacques Lecoq in Paris. Over the years we change of course. I settled in Paris and became a mum. I no longer get a thrill out of stage acting though I sometimes take to smaller venues to read my poetry and prose. I now feel more at home in recording studios (when I work professionally as a voice-over artist) and scribbling in cafés. But from time to time the bright, showy bird-side of myself sticks out its beak!